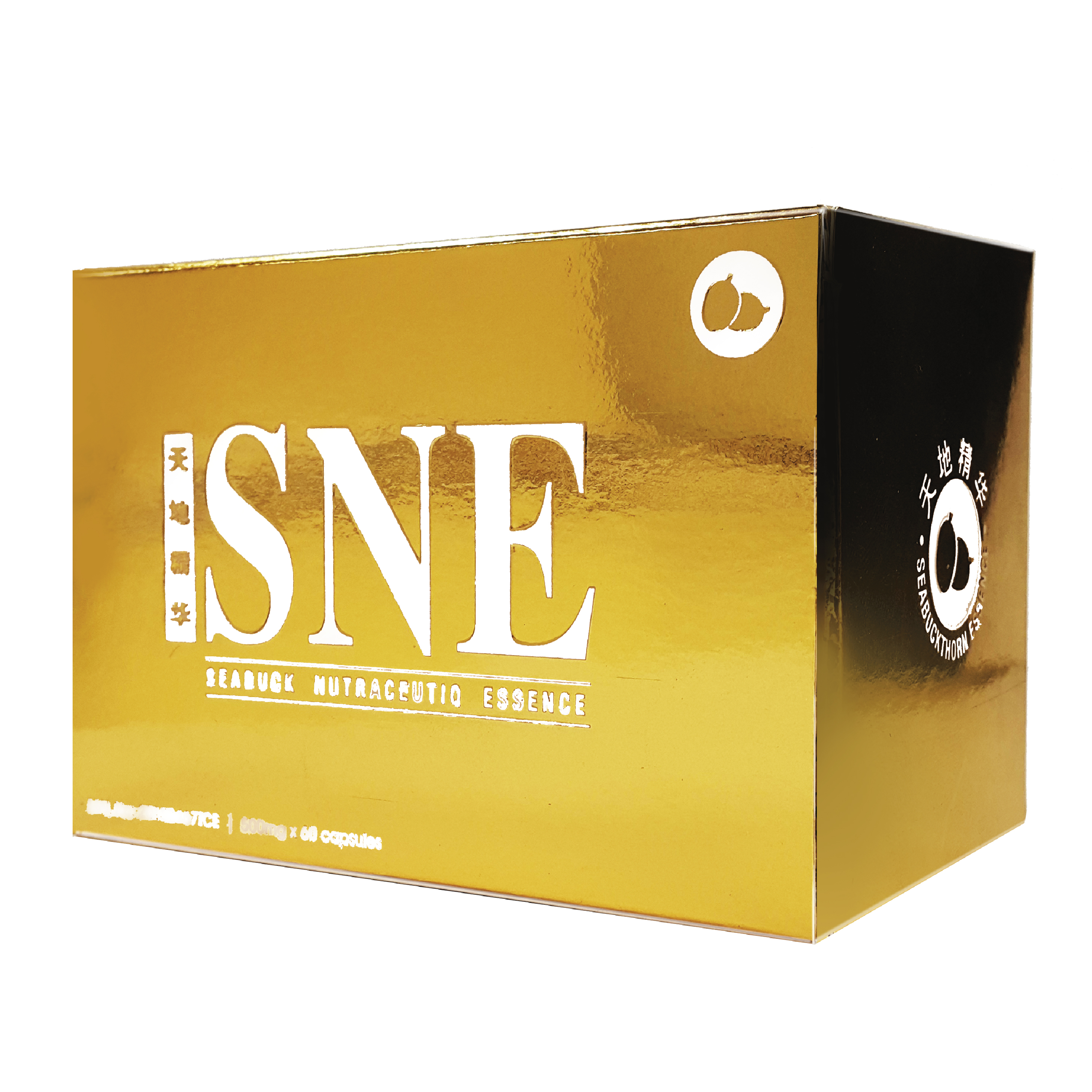 No Siri Kelulusan : KKLIU2178/EXP 31.12.2025   
Seabuck Nutraceutiq Essence (SNE CAPSULE)
500mg x 60 softgels
PRODUCT CODE: 11001
A Nutraceutical Approach for Prolonged Health
SNE Capsule 2.0 is a new generation of enhanced capsules from 15-year-old SNE Capsule that meet the needs of the 21st century.
SNE Capsule 2.0 is a product of Seabuckthorn Seed Oil now with increased bioavailability of nutrients and deliver rich bio-active mucopolysaccharides where it helps promote a dual-effective solution through providing human essential nutrients and stimulating recovery actions for a long life.
The SNE Capsule is extracted using safe and high-quality supercritical carbon dioxide (CO2) technology aimed at preserving the full benefits of seabuckthorn.
The main composition of fatty acids: Linolenic Acid (Omega 3), Linoleic Acid (Omega 6) & Oleic Acid (Omega 9).
Key benefits:
Promote longevity
36 essential nutrients are active
More than 200 types of bioactive components
High antioxidants
Massive medical and therapeutic activities
Prevents cell dysfunction
Promote cellular repair
Helps rejuvenate the skin
Increase your body's endurance
Download Leaflet
Phospholipids
Encourages the unique affinity of membrane lipids to enhance the absorption of active ingredients and other bioavailability for rapid recovery.
Oligomeric Procyanidolic Complex (OPCs)
Oligomeric Procyanidolic Complex (OPCs)
It acts as an antioxidant that helps protect the heart and the cardiovascular system by preventing nitrosamine from forming. It also helps protect healthy cells from carcinogenic effects.
Carotenoids
It acts as an antioxidant in the human body, has a strong anti-cancer properties. Some carotenoids are converted by the body into vitamin A, which is essential for normal vision, growth and development.
Mucopolysaccharides Bio-Active
Mucopolysaccharides Bio-Active
Mukopolisaccharides are polysaccharides that work with the support and maintenance of skin structure proteins such as collagen and elastin where they help to repair skin problems through the support of cell structures and the effects of moisture.
Nucleic Acid
Forms and builds proteins to restore cells and tissues.
Seabuckthorn Hippophae Rhamnoids L. Seed Oil
No added artificial colourants, flavours or preservatives.
Take 2 to 4 capsules each time, 2 times daily
SNE Capsule 2.0 softgels are made from edible vegetable gelatin that is Halal-certified.
Follow recommended dosage.
If symptom persist, please consult a doctor.
Pregnant and nursing women should consult their physician before use.
Keep away from children.
Store in a cool and dry place, away from direct sunlight and heat.
It is traditionally used for health care.
Certified HALAL by Malaysian Islamic Development Department (JAKIM)
Manufactured by a Certified EN ISO 9001:2008
Manufactured by a Certified HACCP International
Manufactured by a Certified USDA Organic
Frequently Asked Question(s)